Welcome
Update: Friday 17th June 2016, 4 pm
Registration for the South West Hertfordshire Schools Consortium Tests for Entry in 2017 is now CLOSED.
If you have missed this registration deadline, please contact the Admission Secretary of any of the Consortium schools on Monday 20th June 2016.
Next Important Date: Monday 4th July 2016
(Test centre venue allocation)

If you have registered, please log on to the parent portal http://www.swhscregistrations.com/account/login on Monday 4th July 2016 by using your email address and the secure password you used when registering.  You can also find the link for the parent portal on your test registration confirmation email.
If you have forgotten your password please click on the 'Forgotten password' link.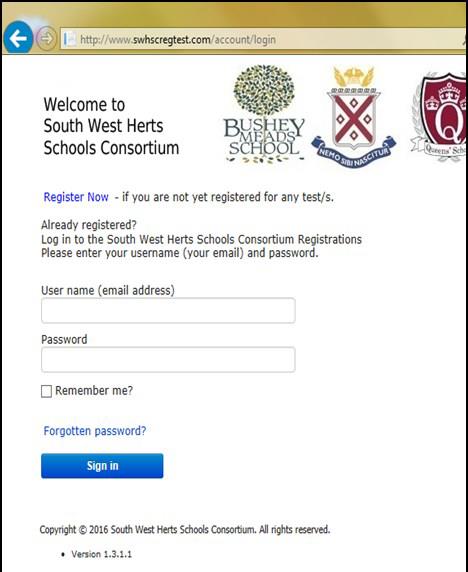 The South West Hertfordshire School Admissions Consortium consists of the following schools:
Bushey Meads
Rickmansworth
St Clement Danes
Parmiter's
Queens'
Watford Grammar School for Boys
Watford Grammar School for Girls
If your child usually receives extra time in tests or special support in class, you must provide written confirmation of this from your child's current school Headteacher. This evidence should have been received by the Consortium by Friday 17th June.  If this has not been received by this date, it might not be possible for the test centre to provide the appropriate support.
If you require further clarification on any issues, please contact the Admission Secretary at any one of the seven Consortium Schools.